VOVA EXCHANGE PLATFORM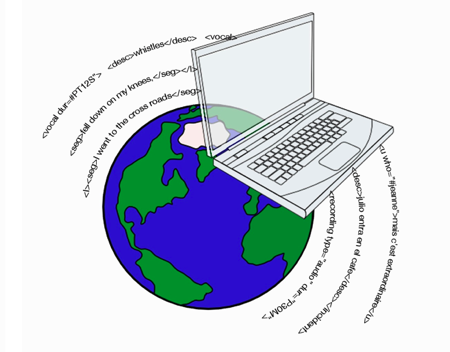 The VOVA Exchange Platform will provide researchers, community language instructors and speakers, and the general public with primary resources and insightful interpretations of the following:


Vocal and Verbal Art

: an aesthetic use of voice and language for any number of social aims and purposes.




Stylized Oral Discourse

: a coherent unit of speech spoken by a competent user of a given language, using poetic and/ or rhetorical devices along with symbolic or otherwise codified references, drawing attention to the message for the sake (or pleasure) of message-making.




Verbal Art Performance

: a social event in which a competent user of a given language appeals to one or more audience members with a clever and aesthetically configured use of speech.




Vocal and Verbal Art Genres

: distinct though often hybrid categories of voice usage and/ or speech that may be characterized according to style, purpose, context, register, theme, vocabulary, etc. Examples include jokes, personal anecdotes, myth, legend, and rap.




Performance Arena

: a social space that is created by the emergence of a verbal art performance, whether planned or spontaneous, that evokes the immediate context, historical references and contexts, and culturally embedded codes and references.




More specifically, the VOVA Exchange Platform will provide a multi-language verbal art performance archive with annotated texts and recordings, interoperable databases with query modes, interpretive paradigms for analysis and comparative studies of oral traditions, bibliographies reflecting works on vocal and verbal arts, and eLearning programs for studies in community languages.


VOVA ARCHIVES PROJECT

The VOVA Archives will provide both transcriptions of verbal art performances and, when possible, audio and/ or audio-visual recordings of performances. These live community performances and/ or ethnographically-solicited performances will have been interpreted by audience members and other specialists of the language performed. All materials will be selected for their community-based aesthetic appeal.


VOVA DATABASES PROJECT

The VOVA database will make it possible to identify stylistic devices and operations for purposes of research and general cultural appreciation. Based on the outstanding advances of linguists and anthropologists throughout the world in studies of oral discourse and traditions, the VOVA project seeks to compile data in such a way as to facilitate transcription, translation and detailed descriptions of personal and cultural styles. With sufficient data, representing a representative number of languages, we are confident that the VOVA archive and database will allow us to advance studies in comparative oral traditions and cultural forms of vocal and verbal styles.


COMMUNITY LANGUAGE E-LEARNING PROGRAMS

VOVA researchers are working with instructors of indigenous languages with the aim of revitalizing endangered languages through school lessons and community courses as well as university-based instruction. Together, researchers and community language instructors are designing Internet based learning activities and tools for supplementing classroom work.


ANALYTICAL MODELS FOR INTERPRETING VOCAL AND VERBAL ART PERFORMANCE

VOVA researchers are specialists of oral literature and other oral traditions in which language is used for reinforcing and creating cultural meanings. Many of our scholars have innovated methodologies and paradigms for a deeper understanding of the codes and references that unfold in a community performance. Analytical models may be generated for seeking variations as well as commonalities between different cultural traditions. They may also be used to develop classroom instruction for greater appreciation and understanding of languages learned by descendants of these age-old traditions.


BIBLIOGRAPHIES

VOVA Bibliographies focusing on studies in vocal and verbal arts include the following categories: Language Studies, Performance Poetics, Oral Performance Collections, Ethnohistory, and Ethnomusicology. A growing compilation of these works may be found by clicking here.